2G/3G rule at the University
For teaching courses of any kind as well as all other University events, the 3G rule is no longer mandatory.
Where can I get information about accessibility in digital teaching?
Accessible study programmes are without question connected with accessible teaching. For this reason, the Representative for Students with Disabilities and Chronic Illnesses has compiled information for teachers on how they can make their digital teaching more accessible to students with health impairments. The document (pdf) can be found at http://www.uni-goettingen.de/en/408350.html
As part of the University of Göttingen's participation in the Stifterverband's Diversity-Audit "Vielfalt Gestalten" (designing diversity), the IT Department has developed handouts and checklists that provide you with information on how to create accessible teaching and learning materials.  These and other tips are available on the website of the Equal Opportunities and Diversity Unit at https://www.uni-goettingen.de/en/625078.html
admission (international)
Can I enroll even if I cannot come to Göttingen in person to study onsite?
You can enroll to study in Göttingen even if you cannot come to Göttingen for the beginning of the winter semester. If you are staying abroad in the meantime and do not have EU citizenship, the requirement to provide proof of German health insurance does not apply for this period. If you have any questions, please contact the International Student Office (international.study@uni-goettingen.de).
Please note that in the summer semester 2022, the University will again primarily offer teaching in person. Studying virtually from abroad is no longer possible without significant delays to the study process. It is essential that you contact the study programme coordinator or the faculty offering your study programme and take advantage of advice services if your arrival is delayed.
#GI 13.04.2022
In addition to University administration as well as the central information The pandemic presents us all with major challenges. If things are not working out so well for you, our broad network of advice centres is available to you. In case of need , the following offices can be particularly helpful:
Thematic overview pages
#ÖA 25.11.2020
I am newly enrolled. How do I get my account set up and my new chip card (student ID card)?
Please follow these instructions to receive your student account and student ID.
Updated: 5 October 2020
I have lost or damaged my chip card. How do I get a replacement?
Please follow these instructions to receive a replacement for your student ID.
Updated: 7 March 2022
I would like to renew my student ID. Are the printers for renewing cards or the Chip Card Office available? Is there a replacement for the semester ticket?
For the validation of the chip card (student ID) the printer for renewing cards in the ZHG is available The printers to renew cards in the UMG and Physics libraries as well as at Wilhelmsplatz 4 are also available again.
I had my Student ID card blocked because I had lost it. Now I have found it again and would like to have the blocking lifted. How can I do that?
Then send an email from your student email account (other sources will not be considered for security reasons)Ersatzchipkarte@uni-goettingen.de. Please be sure to include the following information:
First and last name, as stated on your official identity card (such as your passport)
Birthdate
Student ID number, also known as matriculation number (Matrikelnummer)
Please note that we can only lift the blocking of your ID if no new card was produced yet.
Updated: 15. March 2021
I am exmatriculated, but still have money on my chip card. What can I do?
The Studentenwerk can transfer the remaining credit balance to your account. Please send an email to sekretariat@studentenwerk-goettingen.de. Please include your name, date of birth, student number and the number for your chip card. You will find the chip card number, which begins with 0007, on the back of your student card. Please also include your bank account details. If it is not your account, please mention this in the email and include the name of the account holder.
Updated: 14. January 2020
There is currently no requirement to collect contact details to satisfy Lower Saxony's coronavirus regulations (this was collected in the past using the "Darf ich rein" app).
#S 29 March 2022
Are the dining facilities open?
The refectories and cafeterias of the Studentenwerk are closed from Monday, 14 December 2020 to Sunday, 10 January 2021. Please check Studentenwerk's website:
Studentenwerk Göttingen.de
discrimination, dealing with
Entry and arrival in Göttingen
Events can be held at the University in accordance with Lower Saxony's current coronavirus regulations.
medical masks compulsory in the buildings and up to the point of taking your seat
Room capacities can be fully utilized.
PLEASE NOTE: At official events, the German occupational health and safety regulations apply and you must wear a face mask until further notice if a distance of 1.5 m between people cannot be maintained. This is particularly important when eating and drinking.
In view of this, it is recommended that receptions, farewells, PhD receptions and similar events of an official nature be held outdoors rather than inside.
excursions & practical training
For excursions, practical training, work in the field etc, the regulations for each country as well as the University's rules apply. For excursions, please also follow the regulations for business trips.
#11.03.2022
Increased Standard Period of Study
Lower Saxony extends standard period of study by another semester
In view of the ongoing coronavirus pandemic, Lower Saxony has decided to increase the individual standard period of study by another semester. All students who were enrolled for four semesters in the period from summer semester 2020 to winter semester 2021/2022 and were not on leave of absence will receive an extension of their individual standard period of study by four semesters. Students who have only been enrolled for one semester during this period and have not been granted leave of absence will have their individual standard period of study extended by one semester etc..
If you have already been credited with corresponding semesters in other states in Germany, this regulation does not apply. The extension of the individual standard period of study also increases the study credit (§ 12 NHG), but only if it was not used up before or at the end of the summer semester 2019.
What do I have to do now as a student?
If the regulations apply to you, the semester credit will now be credited to you automatically. You do not have to do anything else. Students who have paid long-term tuition fees for the first time in the period from summer semester 2020 to winter semester 2022 will automatically receive a refund of the overpayment as soon as this regulation is implemented, as these fees are now no longer applicable due to the new regulations. An application for reimbursement is not required for this.
How do I obtain a certificate?
The extension by one or two or three semesters is indicated on the Immatrikulationsbescheinigung (certificate of enrolment), the Studienzeitbescheinigung (confirmation of periods of study) and the BAföG-Bescheinigung (certificate for §9 BAföG) available at eCampus.
22. February 2022
Infection (suspected or diagnosed), quarantine, symptoms of illness
Can I be exempted from paying the long-term tuition fees?
Lower Saxony reacted quickly to recognise the impact of the pandemic on the period of time needed to study, by announcing the opportunity to submit a simplified hardship application without proof in the early summer of 2020. This option has now expired, because all students who were enrolled in at least two of the semesters (Summer 2020, Winter 2020/21 or Summer 2021) and were not on leave of absence, have already been granted an extension of two semesters to their individual standard period of study.
For students at the University of Göttingen, these extra semesters are automatically stored in the student administration system and a recalculation of your fee will be carried out. If you have been assessed for long-term tuition fees for the first time in one of the semesters mentioned above and it is decided that there has been an overpayment, this will automatically be refunded to you. You do not have to do anything else.
In addition, students still have the option in individual cases, within the current deadlines, to submit a justified and documented hardship application for a semester in which delays in study time have occurred due to the direct and demonstrable effects of the coronavirus pandemic on teaching and study. This application must be accompanied by appropriate proof and evidence, such as a certificate from the Examinations Office regarding restrictions suffered for instance due to cancelled/postponed compulsory courses/examinations.
The form for a semester will be available via the forms in eCampus from the start of the lecture period until one month after the end of the lecture period.
For further information on long-term tuition fees, please see: https://www.uni-goettingen.de/en/41421.html
Long-term tuition fees – Medical Certificates
If you are exempted from long-term study fees due to disability, serious illness or hardship, you usually need an official medical certificate. Due to the pandemic-related workload of the public health authorities, it is possible until further notice to present a medical certificate from a specialist or family doctor as an alternative. The certificate issued by the public medical officer must specify the semesters in which the student's ability to study was/is limited. Furthermore, the amount of the restriction on the ability to study must be stated (as a percentage). Further information can be found in the FAQ Long-term study fees.
03.08.2020
People at higher risk of developing severe COVID-19 disease
In the course of the coronavirus pandemic and, in particular, since the introduction of vaccines, the assessment of who belongs to an at-risk group has changed significantly. Therefore, at the University of Göttingen, this term is no longer used as it was.
Of course, in work situations it is still recommended to ensure sufficient distance and/or to wear a face mask. If necessary, the University will issue further rules on this subject, taking into account the current situation regarding infections.
Staff members who are concerned that they are at high risk of severe Covid-19 disease due to individual health conditions should first talk to their direct manager about the possibility of mobile work (in accordance with the service agreement) or deployment options with only a few contacts. If no mutual solutions can be found that cover the needs of the service, advice should be sought from the Betriebsärztlichen Dienst (occupational health service). There, the health situation must be examined, including seeking expert opinions. After the opinion of Betriebsärztlichen Dienst has been submitted, the next steps should be discussed with the HR Department.
#5 19.05.2022
Göttingen City and District Ausländerbehörden (Foreigners' Registration Offices) are open. Due to the increased incidence of infections, the Foreigners' Registration Office of the city of Göttingen has limited attendance onsite. If you wish to apply for your first residence permit or a renewal of your permit, this must be coordinated in advance by email with the correct department.
#GI 13.04.2022
People at higher risk of developing severe COVID-19 disease
People who have an increased risk of developing severe Covid-19 should be offered the option of staying away from the workplace if the recommended occupational safety measures cannot be observed there. Particular attention should be paid here to maintaining a minimum distance of 1.5 m from other persons or, if this is not possible, wearing a mouth-nose cover for all persons involved. Office workplaces in an individual office, for example, do not pose a risk of infection; the care of small children in a day care centre would not be recommended for persons at risk.
If managers can offer their employees (including student assistants) a secured workplace, there is no need for risk groups to stay away from the workplace. If you have any questions regarding the assessment of an employee's illness and/or the design of a workplace that is as safe as possible, the company medical service offers advice for managers and employees.
The medical certificate required under the previous regulations should be presented to assist the occupational health service in any case, but is now no longer sufficient in itself to obtain leave from work.
#5 05.05.2020
Rules for those with an infection and their contacts
Requirements for anyone with coronavirus and their contacts
Following the recommendations of Germany's Ministry of Health and the Robert Koch Institute, the regulations for quarantine and self-isolation were updated on 7 May 2022.
Anyone who had a positive PCR test for coronavirus, who has been symptom-free for at least 48 hours after five days, can stop self-isolating. However, a negative rapid test is still recommended.
Only healthcare workers and similar workers are still obliged to submit a negative test result before resuming their work after the end of self-isolation.
The requirement for close contacts to quarantine has been lifted. However, it is strongly recommended that they reduce their contacts and, in particular, avoid anyone who is at higher risk of serious illness from Covid-19, and to perform a rapid test every day over the next five days. The definition of a contact is a person who was in contact with someone who later tested positive via a PCR test either during the two days leading up to the test or since their positive test was taken and one of the following applies:
Person was within 1.5m for more than 10 minutes without protection
Person was in a conversation with less than 1.5m without a protection for any length of time
Person was more than 10 minutes with someone in a badly ventilated room
If you have a positive self-test, even if you are vaccinated or have recovered, you should self-isolate (go home), inform your work and close contacts and organise a PCR test. If the PCR test is negative, you may end self-isolation.
The charts below summarise the new regulations and recommendations.
Please continue to follow the guidelines from the local health department (Gesundheitsamt) here.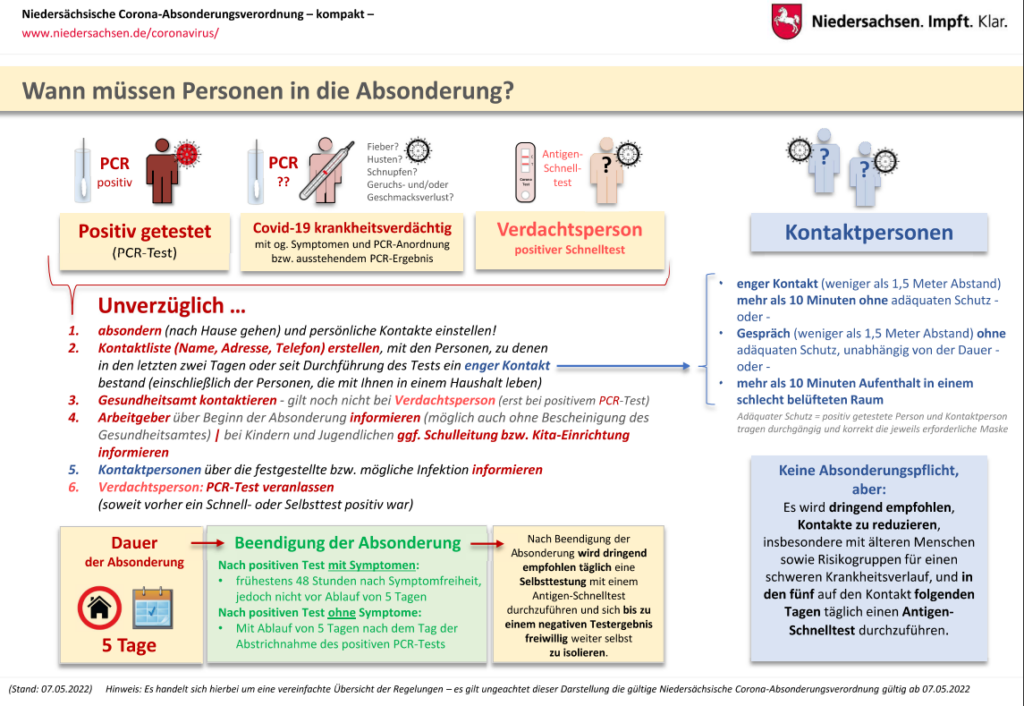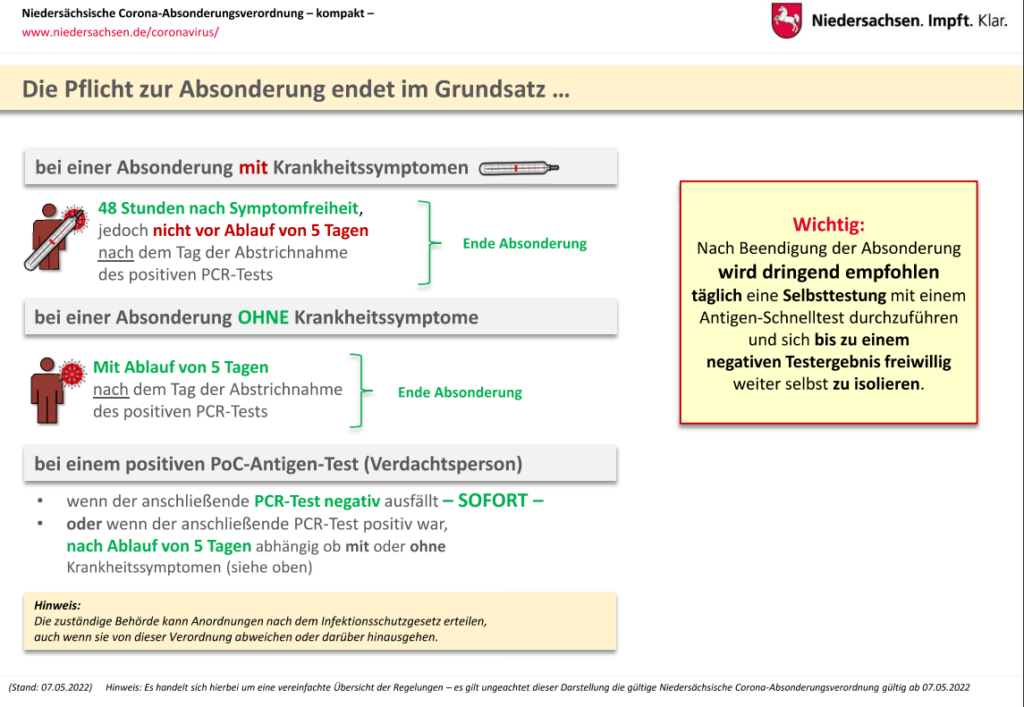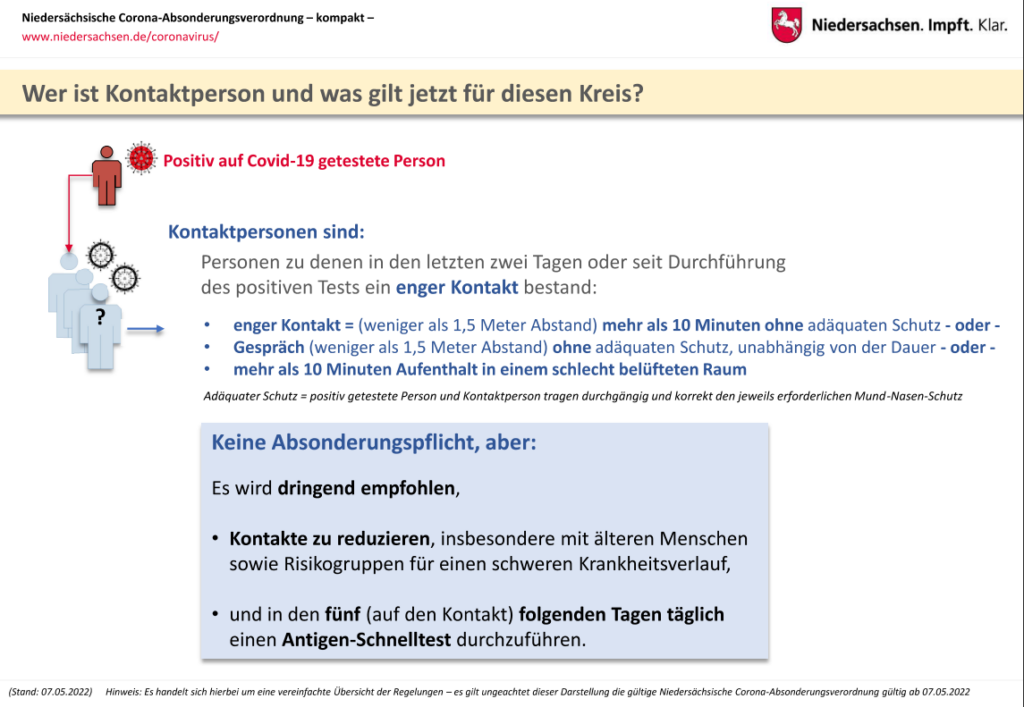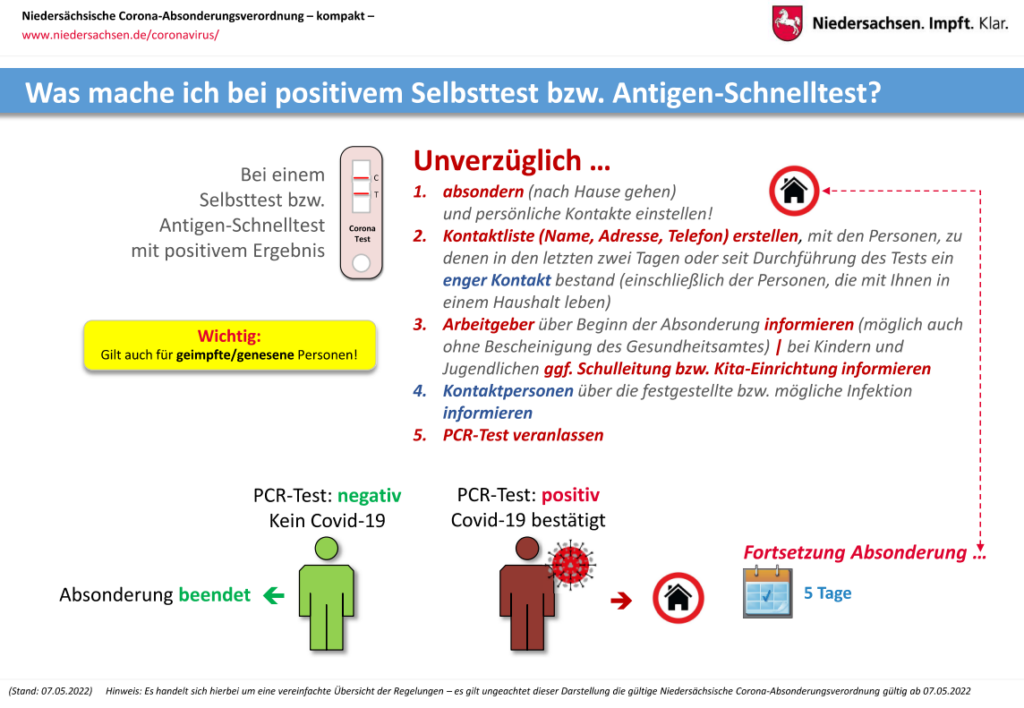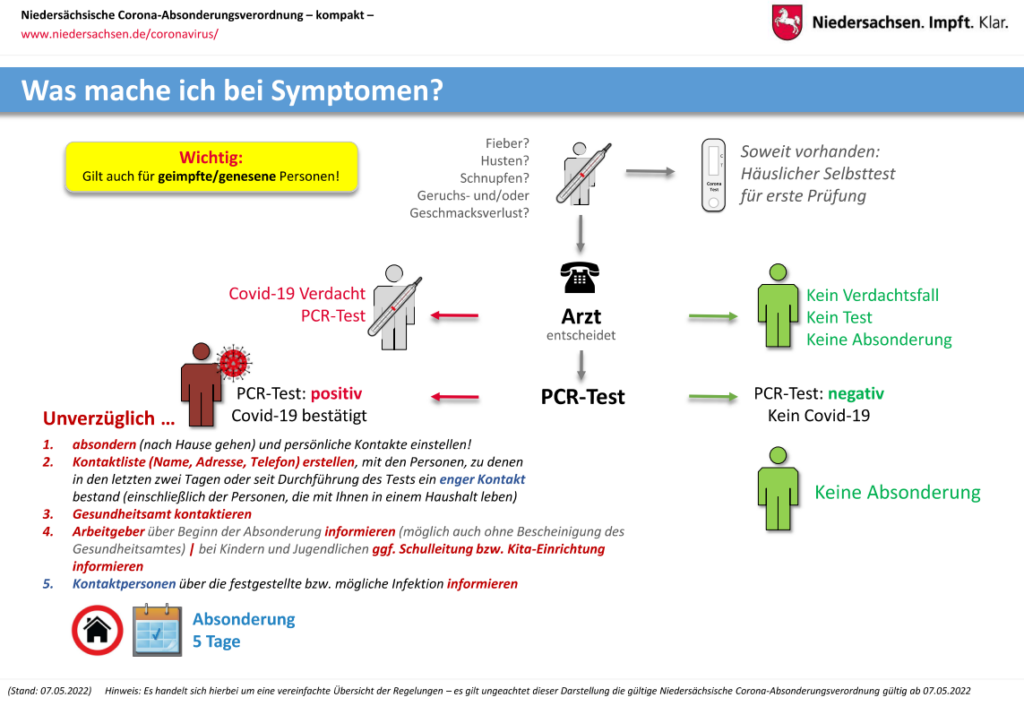 S / 09.05.2022
Study Abroad and Internships
Due to the continuing changing environment, students who have already been nominated for an exchange program should contact their direct contacts for updated information.
Students should always follow the advice of the Auswärtigen Amts (German Foreign Office) about safe travel and pay particular attention to having an adequate level of health insurance abroad.
Students who would like to find out more about opportunities for studying or internships abroad can make appointments with study abroad advisors at the International Office via the contact form.
#The International Office, 13 April 2022
Teaching in the summer semester 2022
Visitors, staff and students from abroad (incomings)
Will the ZESS courses (e.g. language courses) take place?
All information regarding courses offered by the Centre for Languages and Key Qualifications during the pandemic can be found at https://www.uni-goettingen.de/en/623734.html