general information for teachers
2G/3G rule at the University
For teaching courses of any kind as well as all other University events, the 3G rule is no longer mandatory.
Where can I get information about accessibility in digital teaching?
Accessible study programmes are without question connected with accessible teaching. For this reason, the Representative for Students with Disabilities and Chronic Illnesses has compiled information for teachers on how they can make their digital teaching more accessible to students with health impairments. The document (pdf) can be found at http://www.uni-goettingen.de/en/408350.html
As part of the University of Göttingen's participation in the Stifterverband's Diversity-Audit "Vielfalt Gestalten" (designing diversity), the IT Department has developed handouts and checklists that provide you with information on how to create accessible teaching and learning materials.  These and other tips are available on the website of the Equal Opportunities and Diversity Unit at https://www.uni-goettingen.de/en/625078.html
In addition to University administration as well as the central information The pandemic presents us all with major challenges. If things are not working out so well for you, our broad network of advice centres is available to you. In case of need , the following offices can be particularly helpful:
Thematic overview pages
#ÖA 25.11.2020
Events can be held at the University in accordance with Lower Saxony's current coronavirus regulations.
medical masks compulsory in the buildings and up to the point of taking your seat
Room capacities can be fully utilized.
PLEASE NOTE: At official events, the German occupational health and safety regulations apply and you must wear a face mask until further notice if a distance of 1.5 m between people cannot be maintained. This is particularly important when eating and drinking.
In view of this, it is recommended that receptions, farewells, PhD receptions and similar events of an official nature be held outdoors rather than inside.
excursions & practical training
For excursions, practical training, work in the field etc, the regulations for each country as well as the University's rules apply. For excursions, please also follow the regulations for business trips.
#11.03.2022
People at higher risk of developing severe COVID-19 disease
In the course of the coronavirus pandemic and, in particular, since the introduction of vaccines, the assessment of who belongs to an at-risk group has changed significantly. Therefore, at the University of Göttingen, this term is no longer used as it was.
Of course, in work situations it is still recommended to ensure sufficient distance and/or to wear a face mask. If necessary, the University will issue further rules on this subject, taking into account the current situation regarding infections.
Staff members who are concerned that they are at high risk of severe Covid-19 disease due to individual health conditions should first talk to their direct manager about the possibility of mobile work (in accordance with the service agreement) or deployment options with only a few contacts. If no mutual solutions can be found that cover the needs of the service, advice should be sought from the Betriebsärztlichen Dienst (occupational health service). There, the health situation must be examined, including seeking expert opinions. After the opinion of Betriebsärztlichen Dienst has been submitted, the next steps should be discussed with the HR Department.
#5 19.05.2022
People at higher risk of developing severe COVID-19 disease
People who have an increased risk of developing severe Covid-19 should be offered the option of staying away from the workplace if the recommended occupational safety measures cannot be observed there. Particular attention should be paid here to maintaining a minimum distance of 1.5 m from other persons or, if this is not possible, wearing a mouth-nose cover for all persons involved. Office workplaces in an individual office, for example, do not pose a risk of infection; the care of small children in a day care centre would not be recommended for persons at risk.
If managers can offer their employees (including student assistants) a secured workplace, there is no need for risk groups to stay away from the workplace. If you have any questions regarding the assessment of an employee's illness and/or the design of a workplace that is as safe as possible, the company medical service offers advice for managers and employees.
The medical certificate required under the previous regulations should be presented to assist the occupational health service in any case, but is now no longer sufficient in itself to obtain leave from work.
#5 05.05.2020
Rules for those with an infection and their contacts
Requirements for anyone with coronavirus and their contacts
Following the recommendations of Germany's Ministry of Health and the Robert Koch Institute, the regulations for quarantine and self-isolation were updated on 7 May 2022.
Anyone who had a positive PCR test for coronavirus, who has been symptom-free for at least 48 hours after five days, can stop self-isolating. However, a negative rapid test is still recommended.
Only healthcare workers and similar workers are still obliged to submit a negative test result before resuming their work after the end of self-isolation.
The requirement for close contacts to quarantine has been lifted. However, it is strongly recommended that they reduce their contacts and, in particular, avoid anyone who is at higher risk of serious illness from Covid-19, and to perform a rapid test every day over the next five days. The definition of a contact is a person who was in contact with someone who later tested positive via a PCR test either during the two days leading up to the test or since their positive test was taken and one of the following applies:
Person was within 1.5m for more than 10 minutes without protection
Person was in a conversation with less than 1.5m without a protection for any length of time
Person was more than 10 minutes with someone in a badly ventilated room
If you have a positive self-test, even if you are vaccinated or have recovered, you should self-isolate (go home), inform your work and close contacts and organise a PCR test. If the PCR test is negative, you may end self-isolation.
The charts below summarise the new regulations and recommendations.
Please continue to follow the guidelines from the local health department (Gesundheitsamt) here.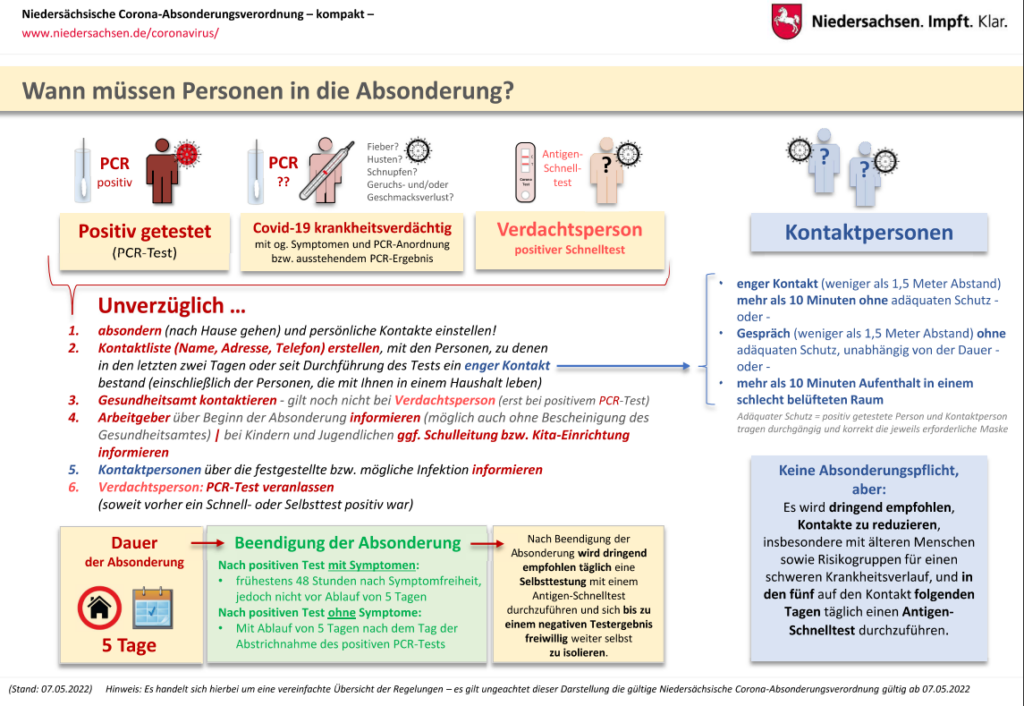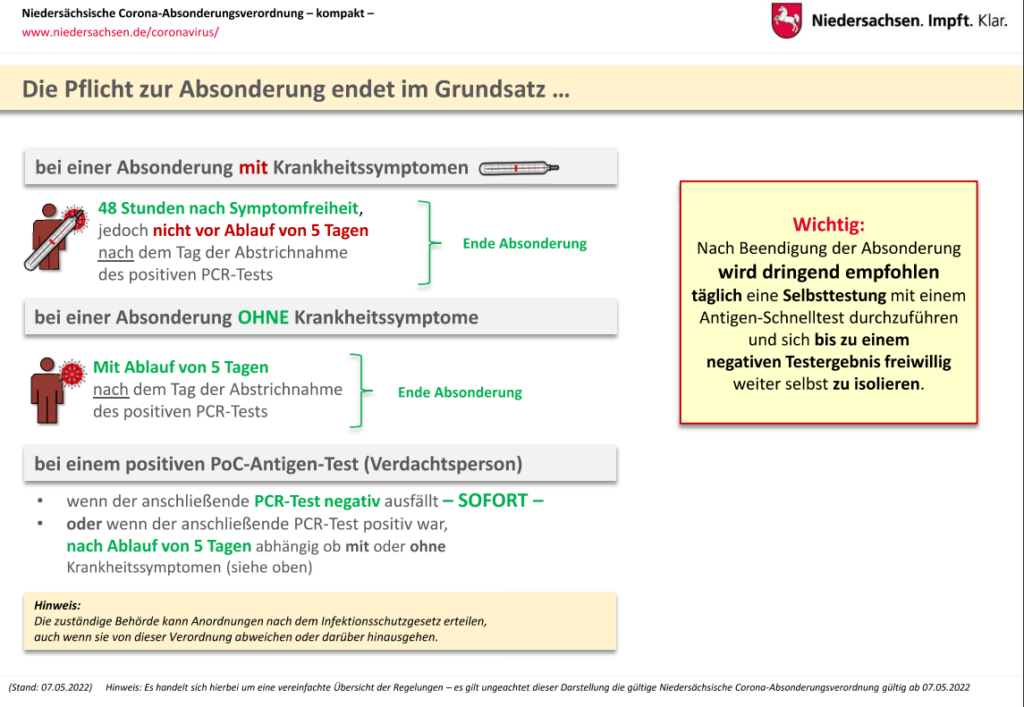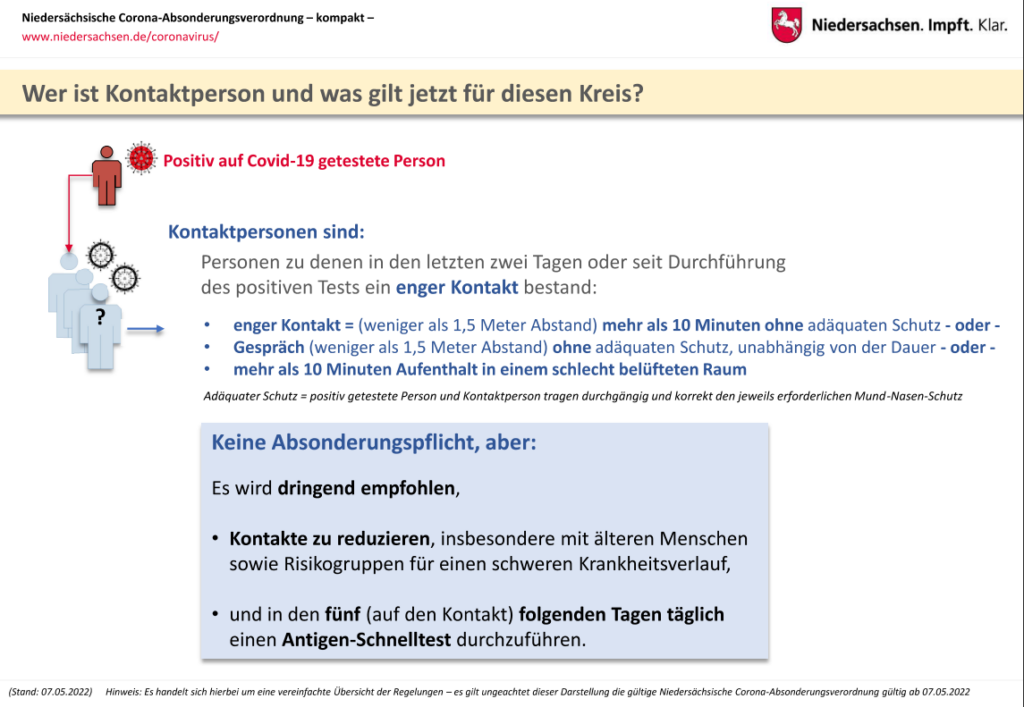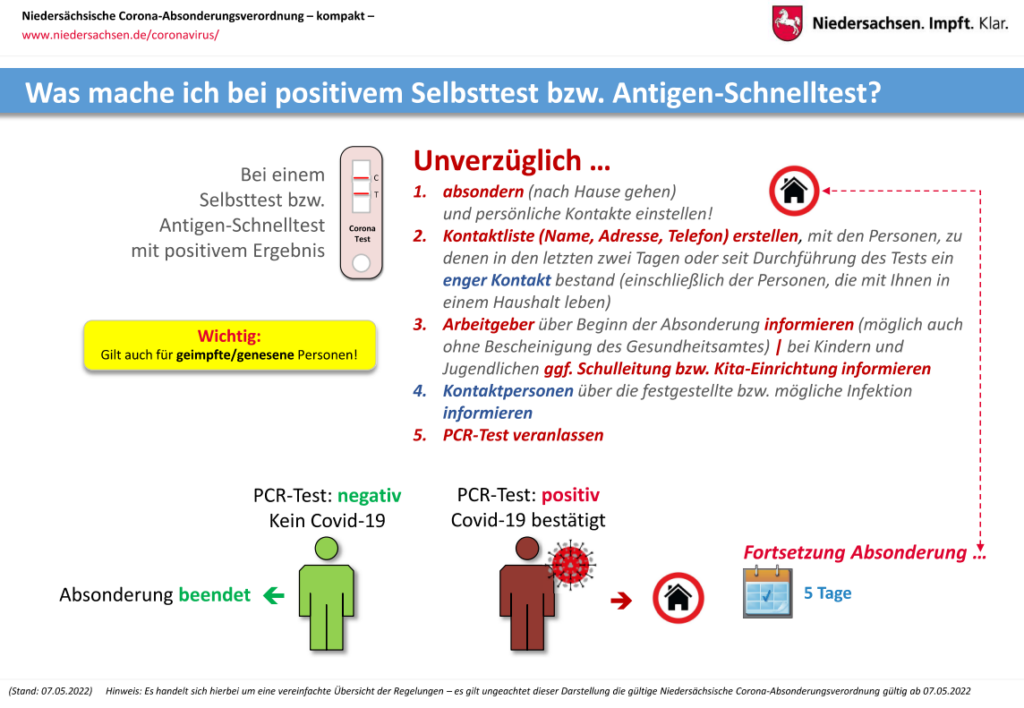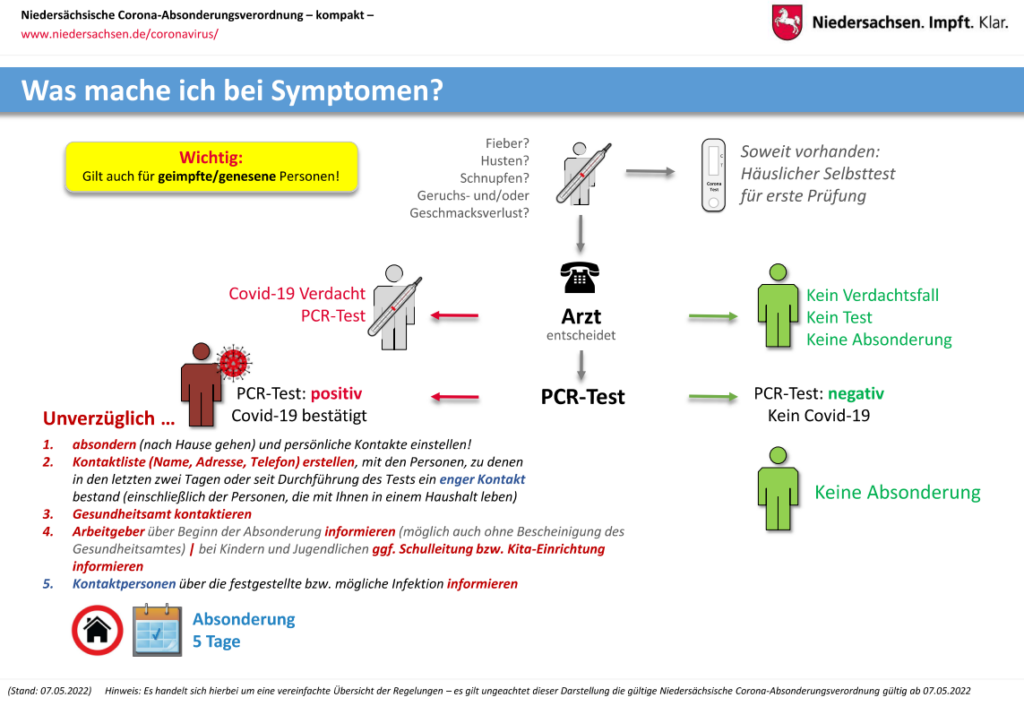 S / 09.05.2022
Information about vaccinations: https://www.uni-goettingen.de/en/645319.html
Please note: as before, the time taken to get vaccinated does not count towards any member of staff's total worktime. This also applies if the vaccination takes place during the time when normal duties are usually carried out and also if the Betriebsärztliche Dienst (occupational health service) carries out the vaccination on the University Campus.
#5 18.12.2021